After heading out of the Westgate Travel Plaza, I continued along I-90 west.  The sun was coming out and I was headed into weather.  It was beautiful.  I jumped off the highway to see if I could get a decent shot.  I traveled south through Howe, Indiana.  It's home to the Howe Military Academy complete with a Pershing tank on it's front lawn.  I never got the shot as I could not find any clear view to the east south east that wasn't obscured by trees.  Oh well.  The excursion wasn't a total bust.  I stopped at the Howe Restaurant for a very traditional mid-western artery clogging breakfast of biscuits and grave over hash browns.  Yum.  Here's a shout out to the very friendly staff and patrons of the restaurant.
I filled up my gas tank and headed back out onto the highway.  I ran into Elkhart Indiana which is the RV manufacturing capital of the world.
While looking for an RV manufacturer I stumbled across a St. John's Episcopal Church in Downtown Elkhardt.  The food pantry was in full swing.  I wandered into the nave and found a very pretty room.  For my friends who are organists or just into organs like I am, there was a sweet little Casavant tracker, Op. 3554, on the back of the altar.  Check out the gallery.
Would that any of the American builders would try building a camper van that gets better than 20 mpg and doesn't cost $75K to $100K.  I'll get off my soapbox.  I stopped at Phoenix USA RV's.  They're small builder and they let me take a selfie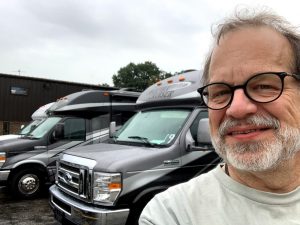 After Elkhart, I headed for Chicago to meet up with my niece for a couple of hours.  I parked below Millennium Park.  I was astounded that it costs $30.00 for 2 hours.  She and I had a Chicago Dog and strolled in the park for a while.  The art that is there is something to behold.
So at 2:30, hoping to beat the traffic I headed out on I-94 and hit stop and go, construction and pouring rain.  Finally, after I got past Milwaukee, traffic lightened up.  I continued until I needed gas again and settled in at Mirror Lake State Park in Baraboo, WI.  It was adjacent to a Jellystone Park.  The rain was still coming down and I did not really set up camp.  I slept in the car.  It was drier and I certainly don't want to pack a wet tent.  I got the best night's sleep that I'd had in a few days.